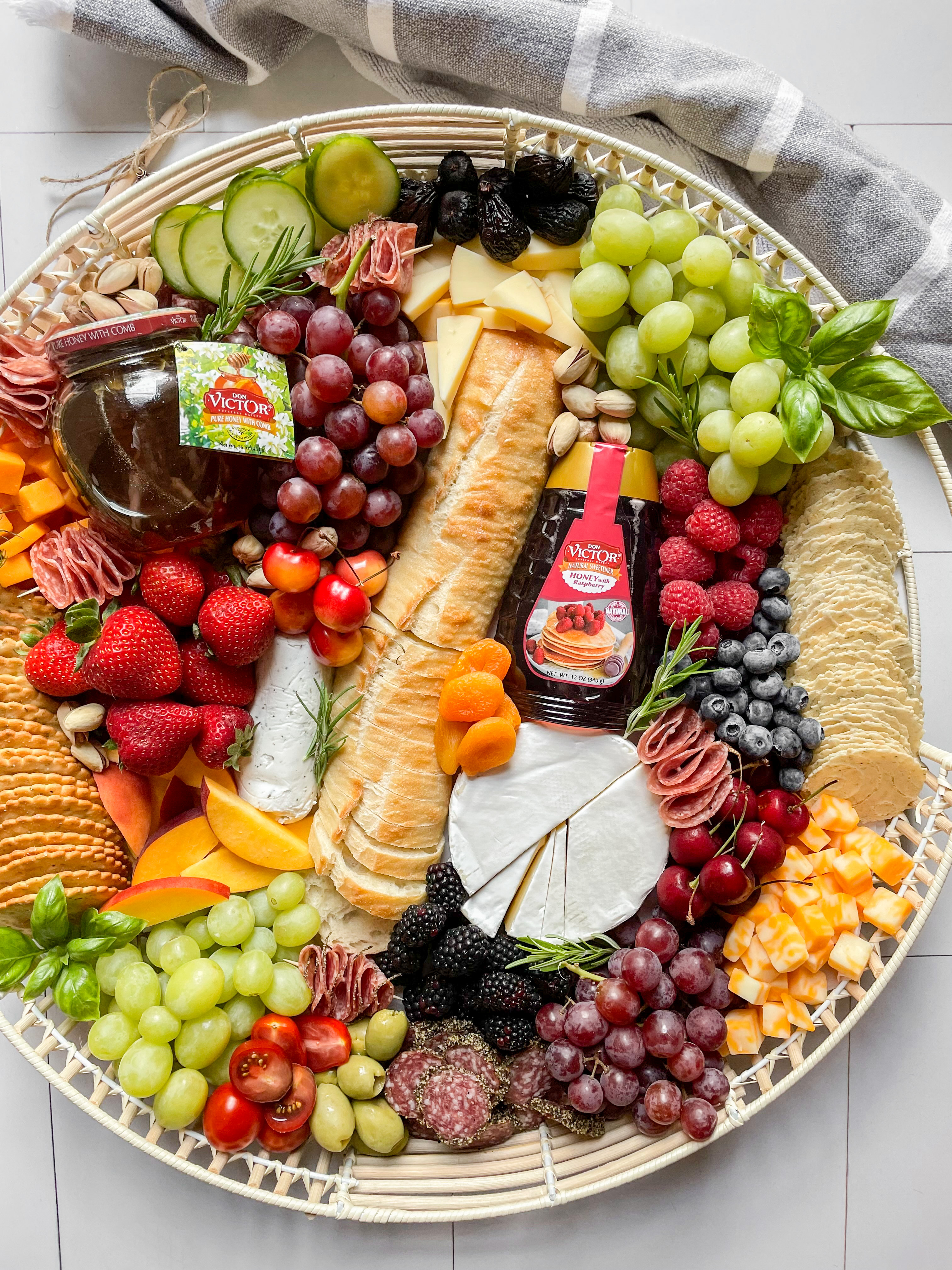 Cheeseboard, grazing board, charcuterie board, snack platter.. whatever you want to call them are my favorite thing to bring out when I entertain. They are perfect for date night, girls night, family dinner, get together with friends – everyone always loves a grazing board. I like to call them grazing boards because that means I can add whatever I want to said board without the charcuterie purists coming for me. Accoutrements are such an integral part of board that I think sometimes get overlooked or tossed aside. We get so focused on the cheese or the meats that we forget that there are items added to these boards that are meant to compliment and amplify those key players.. and one of my very favorites is HONEY!
Honey is meant to enhance the flavor profiles of cheese and bring a little sweetness to the sharpness that can come from certain cheeses. A light drizzle can bring a bite together perfectly! You can serve honey in a small dish and include a dipper for drizzling or you can even offer up a piece of honeycomb. It is perfectly safe and delicious to consume both the honey and the waxy hexagonal containers of the comb – plus it is always visually appealing on a board. Honey can level up several different cheeses, such as Manchego, Parmigiano-Reggiano, and Blue Cheese. You can also include flavored honeys to add a whole new level of flavor to your grazing board. Here are 3 of my favorite bites featuring Don Victor Raspberry Honey
•black pepper thin crisp + peppered salami + smoked gouda + raspberry honey – this one is spicy and smoky and the raspberry gives just enough sweet to bring it all together. Smoked gouda is one of my very favorites to pair with this raspberry honey – it would also make an excellent grilled cheese sandwich – but we can talk about that at a later date.
•rosemary cracker + brie + raspberry honey – Brie & Honey is a classic pairing in my opinion and adding in the rosemary from the cracker and the raspberry in the honey bring this bite to the next level. This raspberry honey would also be amazing in a baked Brie – drizzle a generous amount on a Brie and bake it at 400 (or cover in puff pastry and bake) for around 10-15 minutes or until everything is nice and bubbly and delicious and that is a solid appetizer on its own!
•baguette + chèvre + peach + basil + raspberry honey – this bite screams summer to me! It perfectly sweet with a little tang from the chèvre and the fresh basil *chefs kiss* I feel like it could also be fantastic with any fruit substituted if peaches are out of season! And you could play around with your herb (rosemary/thyme/basil).
My last tip is to serve items that you feel like create your perfect bite near each other of your serving board/platter so it can encourage your guests to recreate that perfect bite!
Get to grazing and don't forget to add Don Victor Honey to your next charcuterie board!!
Save 25% off your order of Don Victor Honey (donvictorfoods.com) with code: THEBLONDEKITCHEN